ALLPOWERS Solar Generator: green energy in every situation!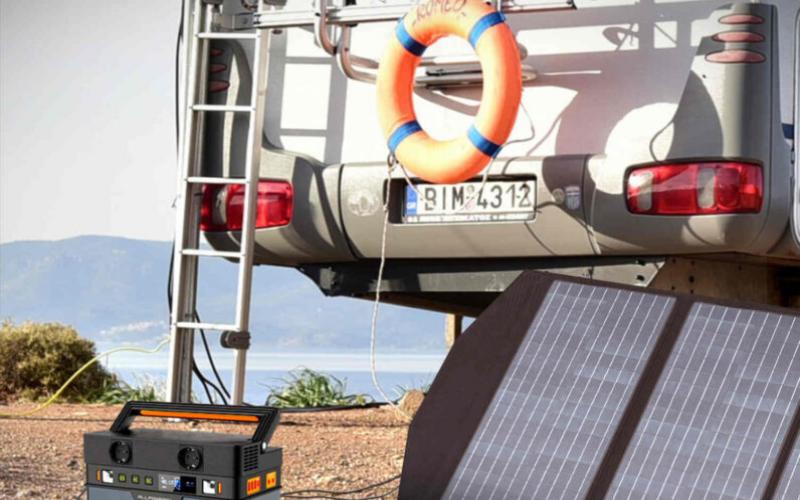 The world is becoming increasingly aware of the importance of clean and sustainable energy. This is where the ALLPOWERS Solar Generator 700W comes into play. This device offers a reliable alternative to traditional electricity by using solar energy to power a variety of devices. With 700W capacity and multiple output ports, ALLPOWERS solar generator is capable of providing power anywhere, whether it's a power outage at your home or an outdoor adventure. In this article, we will examine the features and performance of this solar generator and provide useful information for those looking for a clean and affordable backup power option.
With the ALLPOWERS solar generator you will never run out of electricity again
ALLPOWERS solar panel uses US-made Sunpower solar cells, which have the best conversion effect between cells and can absorb light better and generate more energy. With an efficiency of up to 23.5%, the waterproof surface treatment effectively protects the solar charger. The 100W foldable solar panel included in the package is compatible with most solar generators on the market and can be quickly recharged.
The ALLPOWERS portable power station has 9 output ports for charging multiple devices at the same time, including 2 AC ports, 1 Type-C port, 3 USB ports, 2 DC ports and 1 car socket. ALLPOWERS 100W portable solar panel does not require an additional battery to charge external devices and provides 100% green energy.
The system comes with an ALLPOWERS app available for iOS and Android. The portable power station can be started with a simple phone control over the Bluetooth connection. This ALLPOWERS generator weighs only 5 kg, while the 100W portable solar charger weighs only 2 kg; both are therefore easily portable for outdoor, indoor, travel, camping and RV use. In the sales package we also find 1 power adapter, 5 laptop connectors, 1 DC cable, 1 USB cable, 4 carabiners, user manual, 18 months warranty and 24/7 customer service.
Conclusions
The ALLPOWERS Solar Generator 700 is available on the ALLPOWERS official website with very short delivery times (arrives at home in 3-5 days) and support for any eventuality. If you are looking for a completely eco-friendly power generator that can ensure energy in all situations, then this ALLPOWERS device is for you.
---